On top of the world. Away from it all.
When you stand here, you see it all.  Primeval forests that guard the vast, blue Pacific.  A corridor of redwoods and pines tangled in the fog of San Francisco Bay.  All from this tender inn, high atop a Mt. Tamalpais ridgeline, bordering Muir Woods.  It's been welcoming visitors for a century. It's waiting to welcome you.  
Celebrate Christmas Eve with friends and family up on Mt. Tamalpais. Chef Edwin has created a special menu for the occasion with optional wine pairings for each course.  Reservations required, call 415.383.6000.
Join us for a luxuriously romantic dinner. Reservations required, call (415) 383-6000.
---
"The Inn has developed a faithful following among the cognoscenti of the outdoors."
National Geographic Traveler
"Waiters threw white tablecloths over the weathered wooden tables, where we sat sipping freshly squeezed orange juice, eating buttermilk pancakes and grits, and looking out over a view so beautiful it made you ache."
Los Angeles Times
"We felt as if we were in the wilderness but the food was surprisingly urbane."
Food & Wine Magazine
"The best part about the charming Mountain Home Inn—besides the views, the spacious, comfortable rooms with fireplaces or private decks, and the gourmet food—is its location.

Trails heading out in various directions are literally right out the door: to the top of Mt. Tamalpais, down to Muir Woods, across the mountain to Stinson Beach, down through a pine forest to Mill Valley." Adventure Sports Magazine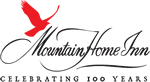 Mountain Home Inn
810 Panoramic Highway
Mill Valley, California 94941



415.381.9000

Email
Directions
Book Online

43°F
Mill Valley
Partly Cloudy
Humidity: 56%
Wind: 0 mph
10 Dec 2013

50°F 33°F

11 Dec 2013

57°F 35°F